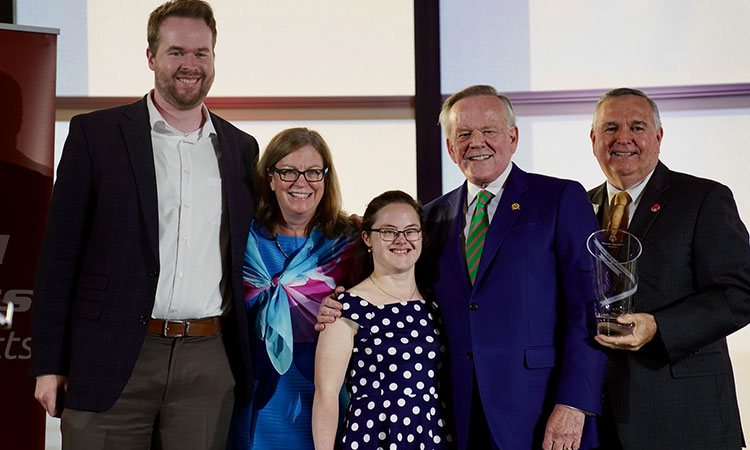 Photo Credit: Special Olympics Massachusetts. Pictured left to right: Matt McCarthy, Mary Beth McMahon, Melissa Reilly, Jim Brett, Gerry Morrissey
Sevita is pleased to announce that its Chief Quality Officer, Gerry Morrissey, was inducted to the Special Olympics Massachusetts Hall of Fame on June 22, 2022, at the JFK Library in Boston.
Morrissey is the 2022 recipient of the John "Jack" Brett Champions Award, which is given annually to someone who has supported and improved the lives of individuals with intellectual disabilities. A lifelong advocate for individuals with disabilities, Morrissey is a state and national human services leader and quality expert who devoted more than 30 years of his career to the Commonwealth of Massachusetts. He served four years as assistant secretary for Disabilities and Community Services and more than a decade as commissioner of the Department of Developmental Services. Since 2007, Gerry has led quality improvement for Sevita across 41 states serving 55,000 individuals.
"Special Olympics Massachusetts is so proud to honor Gerry Morrissey with the John "Jack" Brett Champions Award," said Mary Beth McMahon, president and CEO. "Gerry has lived a life in the service of others, especially our neighbors with intellectual disabilities. Throughout his career from his time serving as the commissioner of the Department of Developmental Services, and now with Sevita, Gerry has put the needs and rights of people with disabilities at the forefront. He has always been a champion for us.  As such, we are excited to honor him with the Champions Award."
Morrissey is the sixth recipient of the Champions Award. Past recipients include former State Representative Jim Brett; U.S. Labor Secretary Marty Walsh; Governor Charlie Baker; former Congressman Joe Kennedy; and State Senator Nick Collins.
Morrissey is past president and board member of the National Association of State Directors of Developmental Disabilities (NASDDDS) and the recipient of the Ben Censoni Excellence in Public Service Award. He is a longtime supporter of Special Olympics Massachusetts and served on the Board of Directors from 2000 – 2009. Morrissey currently serves on the Board of Directors for the Boys & Girls Clubs of Dorchester, which awarded him the National Service to Youth Award, and remains an active supporter of and advocate for Best Buddies.
"We are incredibly proud of Gerry for this incredible honor," said Brett Cohen, chief operating officer for Sevita. "As a leader at the state and national level, Gerry's influence and impact extends far beyond our organization and deep into the community, where his commitment to helping people live full and joyful lives of their own choosing, despite the challenges they face, is an example to us all."